First of all, we love working with wood. Carpentry is our passion.
Years of experience have allowed us to specialize in a narrow range of windows and doors, especially in the production of unconventional windows and doors under customer's taste and requirements. Depending on the order, we make and assemble windows and doors for residential buildings, public buildings, historic palaces, castles and churches. If renovation is impossible, we recreate the original shape of historic structures,. We also manufacture gates, tables and other according to individual design, atypical and diverse structures. The high quality of the products we offer is appreciated by Polish and foreign customers.
We can do anything with wood.
Cooperation with the client
What we do
We produce windows for various types of buildings: thermal insulation, 1, 2, 3 glass according to individual requirement of the contracting party: loom windows - for basements and attics, box windows - for rural or historic buildings, historically stylized for tenements,palaces castles, door frames, composite, one-frame , passive, ox-eye windows, fixed lights, transom windows, and others. None of our windows is ordinary. Each of them is unique.

We make different types of doors: external, internal, balcony, terrace, gates, etc. According the taste and vision of the client. They can be functional, simple in form, ornamental, decorative, carved, classic, or according to various design. We create doors with ideas, customer's vision, with taking care of the right technology, depending on the application.
The external entrance door as a heavily exploited element should be durable and resistant. The mechanical elements used should be made of very good quality materials. An important element is the aesthetic value. The front door made by us is an eye catcher of houses, offices, churches, flats to enter housing communities. They are characterized by high aesthetics and functionality. For more demanding individual clients and institutions, where the conservator of monuments protects, we create a door with hand-made, unique wooden ornaments or a lantern.
We advise on the choice of color, structure, glazing, fittings depending on visions and imagination of the customer. wykonanymi, niepowtarzalnymi ornamentami drewnianymi lub naświetlem w lampionem.
Our Artedoor workshop in Kostomloty (next to Wroclaw in Poland has over 70 years of tradition and experience. It was founded in 1946 by Józef Żak. From that moment it has been passed down from generation to generation. Until today the carpentry employees use the knowledge the youngest mentor Eugeniusz Zak, who actively participates in carpenter's projects, enjoying life in retirement.
In 2018, the carpentry shop was handed over to the next trustee, Belgian living permanently in Poland - Erik Derhaeg, who eagerly manages the work of the carpentry and projects for clients all over Europe.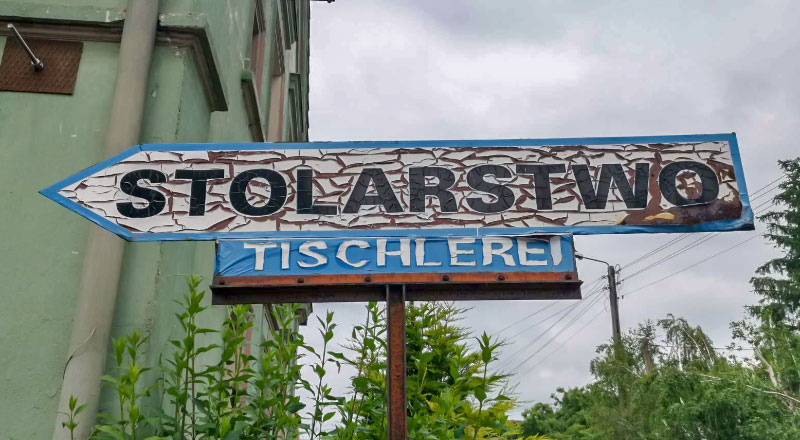 Our customers
We create door and window carpentry art for every customer who appreciates high functional and aesthetic quality and the advantage of wood over plastic and metal. Our clients are individuals, companies and public institutions. The products we offer are also appreciated abroad - in Germany, Belgium, Austria or the Netherlands, especially in countries where carpentry art is dying out, and mass production dominates.
Contact
Artedoor Kostomłoty
Ul. Średzka 6
55-311 Kostomłoty
Management Service Erik Derhaeg
Ul. Parkowa 5 Stróża
55-081 Mietków